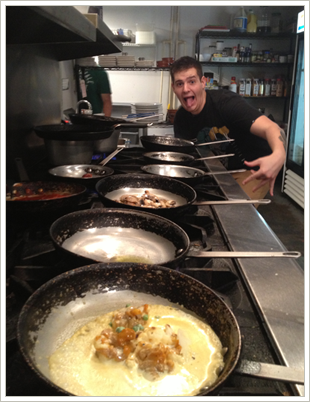 OUT WITH THE NEW, IN WITH THE OLD!
13 Gypsies was born from a love of tradition.
With a heritage firmly rooted in Spain and dating back more than 35 years, 13 Gypsies strives to bring you a taste of true mediterranean flavors. As many restaurants push food innovation, we proudly work and strive to preserve traditional recipes and flavors before they are lost. Staying true to his roots, Chef Howard runs his kitchen with a passion for the simple and elegant food of the old world - passing on his love and passion to young new cooks.
ABOUT THE FOOD
We start each morning by making our own bread from scratch. All bread ingredients are mixed in bowls, kneaded and shaped by hand - we own no mixers. We make our own sausage, cheese, cured meats, pickled vegetables, spice blends, and fresh pasta. We use organic and imported ingredients, and cook everything as fresh as possible. Due to our approach to cookery, we do run out of menu items during a service period - it is first come, first eat!
ABOUT THE FAMILY
Growing up in the kitchen of Andalucian Chef Antonio Gomez, Chef Howard was born in to peasant food. Under the careful guidance of his mom (Chef Antonia, Sangria House - trained under Chef Gomez and countless Spanish grandmothers) Howard has learned to trust and love the integrity of ingredients. If you start with good ingredients, preparation is minimal and the end result is good, honest food.
Chef Howard has been in love with simple peasant food his entire life. Born and raised in Spain, it was a total cultural food shock to move to the U.S. - food was overdone, over thought, and over complicated. He has devoted the kitchen at 13 Gypsies to bringing his love of straight forward peasant food to Jacksonville.
In early 1999, Chef Howard got the chance to go back to Europe. He lived in Munich, Germany and spent every free moment travelling and eating food. It was during this trip that he met Chef Sergio of La Citta, that blessed him with a knowledge of how to treat pasta, and embrace the concept of minimal ingredients. With frequent visits to Italy on his weekends, his love of simple peasant food was born again.
Chef Kevan Kimball has now taken over the primary kitchen duties at 13 Gypsies, allowing Chef Howard to pursue other culinary ventures. Although Chef Kevan has been a fixture in the Jacksonville food scene for many years, he now calls 13 Gypsies home.
Chef Kevan has breathed new life in to the kitchen at 13 Gypsies. You will find all of the classic 13 Gypsy favorites on the menu, but you will also find many of Chef Kevan's original dishes - raising the local food scene to new levels. He is joined in the kitchen by his talented Sous Chefs Damian Hilbrant and Erin D'Antoni.