So… I am back from miami… with good news and bad news…
Bad news first – My favorite restaurant in Miami was Los Quijotes. It was owned by a chef that was born not far from my moms birthplace. He had great food… I mean really good. Last time we visited he told us that he wasnt sure how long he could survive with the economy. Well… we went to visit him and his place is closed. After eating at many many "Spanish" places in Miami, I can tell you that his spot was very true to its roots. I am very sad to see them go.
Another of our usual haunts was Casa Pansa. This spot was owned by Miguel… a Spaniard from Madrid. The food was ok, but we went there for the show. He had a guitarist and 2 flamenco dancers that were from Sevilla. They put on a hell of a show. His spot is closed down as well….sad.
Good news? Very short… found new distributors. Yay!
Now the personal stuff….
Pan fried potatoes… fried eggs… pan seared chorizo link. Typical Spanish breakfast, and one you can get in Miami if you know where to go. Delicious.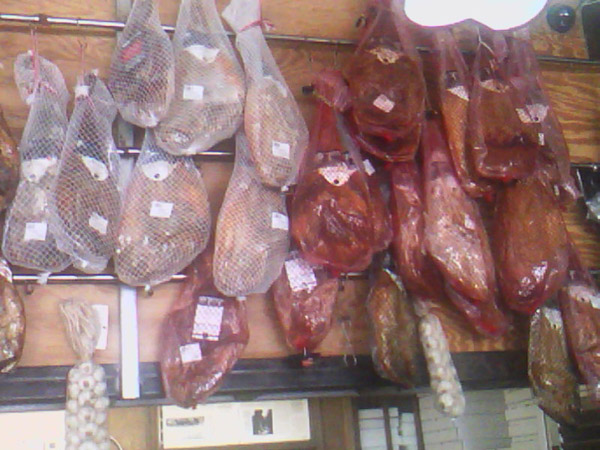 An entire wall of different kinds of cured Spanish ham. Its ok to drool.
A sandwich of white chorizo and manchego. I make white chorizo at 13G as a special sometimes, but to find it cured on a slab of bread in Florida is pretty rare.
A traditional Tabla. A finished piece of wood used as a cutting board for cured meats and cheeses. This one has 18month Manchego, Jamon Iberico, Chorizo, and Lomo (cured pork loin). It was off the chain.
Holy crap… Bitter Kas. I havent seen this stuff since I left Spain. Its a tonic of herbs to help digestion that is carbonated and canned. Its only good if you like bitter herbs.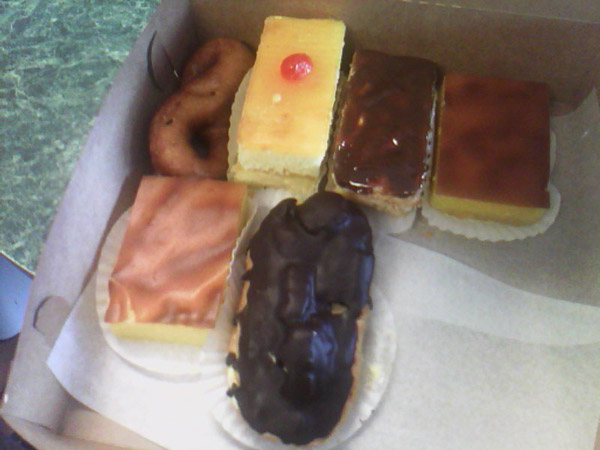 Too full for dessert? Thats fine… take these handcrafted Spanish pastries with you. We did.
The local Miami wildlife… a spotted Dach… cuz I love dogs.