Had to re-post this.. as the first images were too large and autosized to look like a mirror at Ripleys.
Here are some of the images of opening night at 13G. When we opened, I ran the kitchen totally alone for almost 2 weeks until I brought on my experienced nephew (The Kid) as my full time Sous Chef. Opening night was a nightmare… We did as much in numbers that night as we do now on a busy Friday or Saturday – except now I have my Sous.
Flying solo in the kitchen…..weeeee!
End of normal dinner service. I think that's a bit of flour on my face. When all normal food orders were cooked, I actually went out into the dining room, held up a cigarette, and said "I will get your dessert orders done when I get back from a smoke break" – some people seemed confused, others laughed, and yet another person took a picture of it.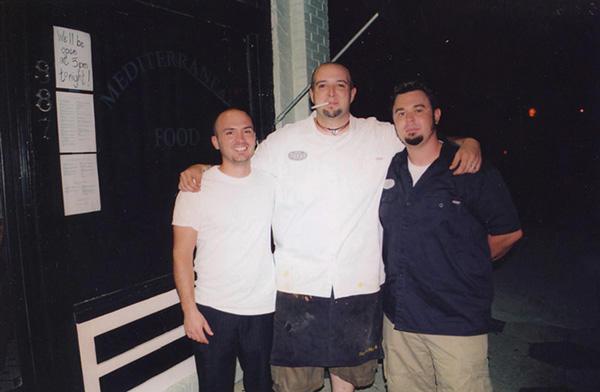 Chef Mike (from Chew) and Chef Brian (from Orsay) joining me for that smoke. Wow… look at the carnage on my apron!
I will get more images scanned and posted when I get time.